Kentucky Junior Academy of Science
The Kentucky Junior Academy of Science will meet in conjunction with the KAS Annual Meeting in November 2022 at Morehead State University.
More photos in our
Photo album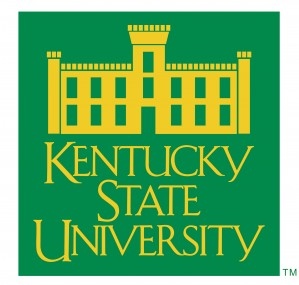 The 2021 "
What Comes Next
" Panel featured undergraduate & graduate students sharing their own research experiences & career pathways. Thank you to our panelists ZaKylah Bryant, Kylea Garces, Bailey Harrod, Lars Hebenstiel, Nick Koenig, and Miana Wallace
Watch the Recording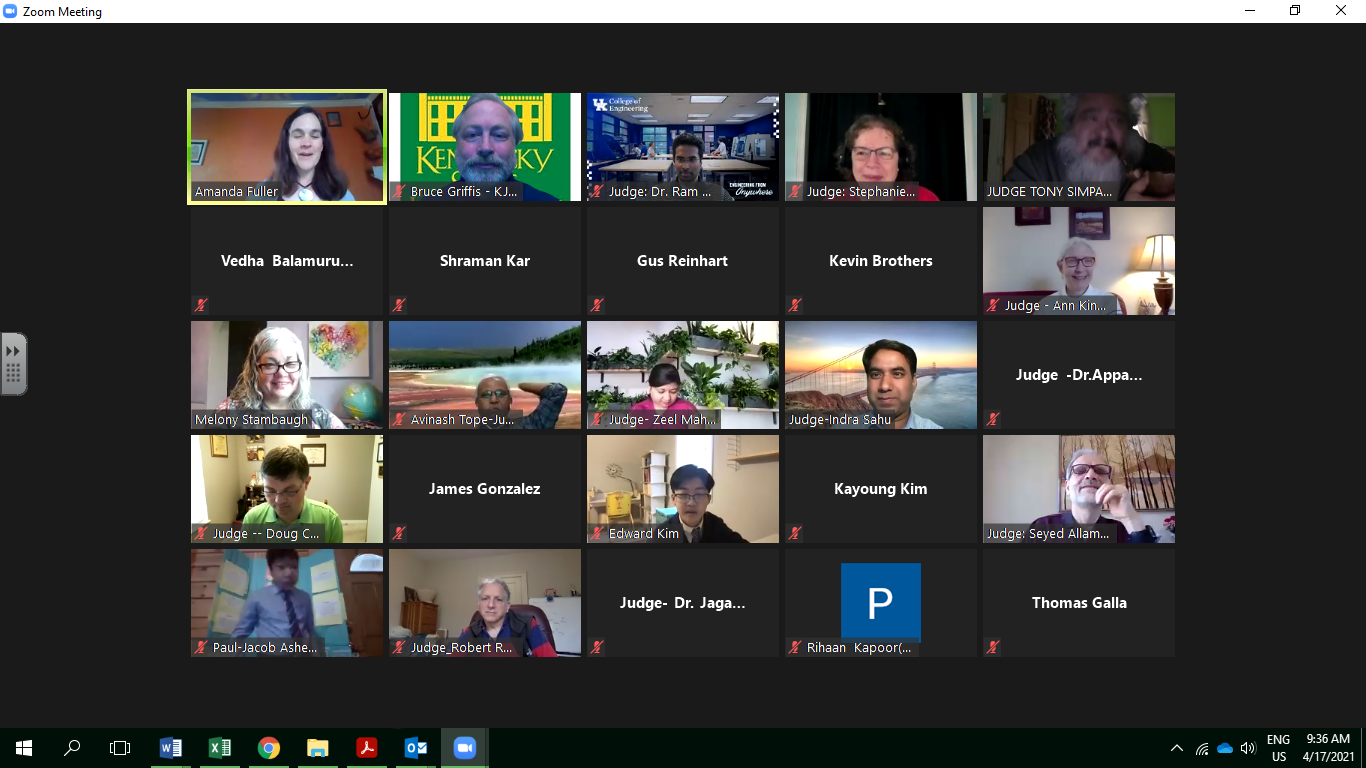 ---
Grand Prize Winners will serve as Kentucky's delegates to the American Junior Academy of Science in February 2022
1st place
Alexandra Heironimus, Novel polymathic method for maritime threat detection
Varun Chandrashekhar, SpeakUp: A Machine Learning-Based Speech Aid to Enable Real-Time Silent Communication for the Paralyzed
2nd place
Shraman Kar, An IoT and Machine Learning based system for the detection and treatment of plant diseases and deficiencies
Shreyas Ghare, Methods to Improve the Efficiency of Solar Panels
Vedha Balamurugan, Development of semi-solid cell culture medium for providing 3D matrix support and enhancing the survival of organoids
Aditi Kona, Characterization of Insulin-degrading Enzyme: Using Molecular Visualization Systems to Understand Substrate Recognition
3rd place
Kayoung Kim, The Effect of External Factors on Baseball
Thank you to our judges!
Dr. Indra Sahu, Dr. Ilsun White, Dr. R. Douglas Chatham, Dr. Ramkumar Annamalai, Dr. Tony Simpao, Dr. Bala Appakalai, Dr. Robert Rosenberg, Dr. Joshua Qualls, Dr. Zeel Maheshwari, Dr. Jonathan Lyon, Dr. Jaganathan Lakshmanan, Dr. Ann Kingsolver, Dr. Frank Ettensohn, Dr. Stephanie Edelmann, Dr. Seyed Allameh, and Dr. Avinash Tope
2020 winners participated in the American Junior Academy of Science February 2021-
Check out Kentucky delegates' virtual AJAS posters
Check out ALL the states' delegates 2021 virtual AJAS posters
Kentucky Junior Academy of Science registration is open to any Middle or High School student doing science research of their own in Kentucky. The registration fee is $5.
Participants present their research as a 10-12 minute talk with slides and should be ready to answer questions for 3-5 minutes. If you have presented your research as a science fair poster,

follow our guidelines

to prepare a talk to share the same information you have on your poster.
---
About the Kentucky Junior Academy of Science (KJAS)
The Junior Academy was begun in the 1930s to foster an interest in science for high school students in Kentucky. KJAS eventually expanded to include middle school students. The Junior Academy holds its scientific meeting each April.
Preliminary oral presentations (10-12 minutes) are conducted during the morning sessions. The winners of the high school morning sessions make presentations in the afternoon finalist sessions. Six overall winners are selected and these students are invited to represent Kentucky at the American Junior Academies of Sciences (AJAS) meeting held in February the following year.
The AJAS convention meets in conjugation with
NAAS
, the National Association of Academies of Science, and
AAAS
, the American Association for the Advancement of Science. As the worlds largest general science organization and publisher of Science, AAAS has more than 138,000 members and 275 affiliated societies.
The Kentucky Junior Academy of Science is open to ANY middle or high school science student in the state of Kentucky. It offers middle- and high- school student scientists an opportunity to present their research project in the format of a 10-12 minute presentation with slides. This presentation is based on research done by the student and and may have been previously presented in a poster format for a science fair.
Students wishing to participate must submit an abstract and a research paper up to 10 pages.
Students may present in the following categories:
Behavioral & Social Science

Biological Topics

Botany & Zoology

Chemistry

Computer Science & Mathematics

Earth & Space Science

Engineering

Environmental Science

Microbiology

Physics
High School participants compete for awards, and three overall winning HS projects are chosen from Life Sciences and Physical Sciences. The Kentucky Academy of Science provides financial support for these students to participate in the
American Junior Academ
y
of Science
meeting the following February, as follows: Two first place winning projects receive up to $1000.00 per project; Two Second and two third place winning projects receive up to $750 per project. Funding will also be available for up to 2 chaperones (no more than one per school), up to a limit of $500/person. (In the case of team projects the amount is to be shared among team members).
2021 Kentucky Junior Academy of Science winners are eligible to be Kentucky's delegates to the American Junior Academy of Science meeting in February 2022



Thank you to our organizers!

Kentucky Junior Academy Director Melony Stambaugh
Co-chair Bruce Griffis, Kentucky State University