Journal of the Kentucky Academy of Science
How to Access Full Journal Content
Contents of Volume 82, 2021
Letter from the Editors
Walter S. Borowski, Shauna Reilly
Journal of the Kentucky Academy of Science 82 (1), iii, (28 January 2022)

Read




Log in to read the full article

The Moderating Effect of Positively Valenced Words on Driving after Drinking Outcomes
Shelby A. King, Robert E. Twidwell, Lance W. Hahn, Jenni B. Teeters
Journal of the Kentucky Academy of Science 82 (1), 26-31, (28 January 2021)

Abstract




Log in to read the full article



Molecular Dynamics Simulation of an ι-Carrageenan Hexamer as Single and Double Helices
Mark Vincent C. dela Cerna, Renz Marion G. Garcia, Armando M. Guidote Jr., Gil C. Claudio
Journal of the Kentucky Academy of Science 82 (1), 32-41, (28 January 2022)

Abstract




Log in to read the full article



The Political Implications of Southern Regional Identification in Kentucky, Missouri, and West Virginia
Scott Lasley, Joel Turner, Jeff Kash, Scott Buchanan
Journal of the Kentucky Academy of Science 82 (1), 19-25, (28 January 2021)

Abstract




Log in to read the full article



Occurrence of Compsopogon coeruleus (red alga) on Lernaea (Copepoda) from Fishes in the Obion Creek Drainage, Hickman County, Kentucky
William G. Wells, Joshua Alvarez
Journal of the Kentucky Academy of Science 82 (1), 42-44, (28 January 2022)

Abstract




Log in to read the full article



Student Retention in Quantitative STEM Majors: Science Teachers and College Students' Perceptions of Push and Pull Factors
Hannah E. Brewer, Wilson González-Espada, Robert D. Boram
Vol. 82 (1), 1-12, (17 September 2021)
Abstract
Log in to read the full article
Freshwater Sponges (Porifera: Spongillidae) of the Wild and Scenic Red River, Kentucky
Jesse A. Tussing, John E. Copeland
Vol. 82 (1), 13-18, (10 December 2021)

Abstract
Log in to read the full article



Abstracts from the Annual Meeting of the Kentucky Academy of Science 5–6 November 2021 Virtual Meeting

More


Journal of the Kentucky Academy of Science 82 (1), 45-118, (28 January 2021)
Log in to read the full article
Contents of Volume 81, 2020
Range of an Adult Female Peregrine Falcon (Falco peregrinus) during the Breeding and Non-breeding Seasons in Kentucky, USA.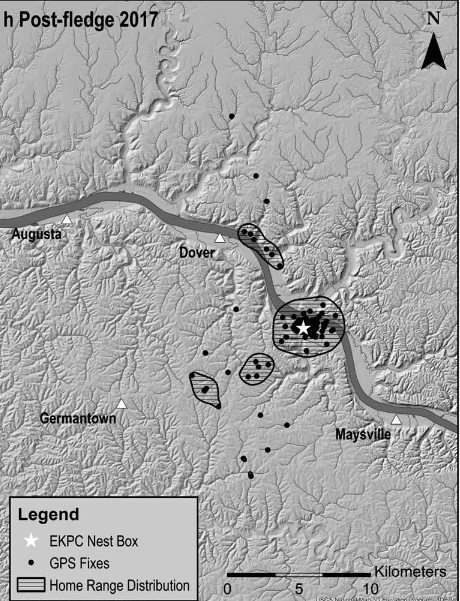 Loren Taylor, Kate Slankard, Andrew Stump, Vol.81(1), 1-10, (23 July 2020)

Abstract




Log in to read the full article
Vascular flora of two wetlands in the Red River Gorge Geological Area and Clifty Wilderness in Menifee and Powell Counties of Kentucky
Calvin Andries, Brad Ruhfel
81(1), 1-12, (7 August 2020)

Abstract




Log in to read the full article
Abstracts from the Annual Meeting of the Kentucky Academy of Science 6-7 November 2020- Virtual
Meeting
Summary
Log in to read the abstracts
Evaluation of Psychological Techniques for Coping with Acute Pain.
Kimberly H. Breitenbecher and Jessica Sellers.
81(1):1–13. (2020).

Abstract
Log in to read the full article
Contents of Volume 80, 2019
A Benchtop Approach To Measuring S-AdenosylMethionine Metabolite Levels Using HILIC UPLC-MS
Stuart Oehrle, Kathryn SP Higginbotham, Erin D. Strome
80(1), 1-5, (10 September 2019)
Abstract
Log in to read
the full article
Do Conservation Practices Bring Quick Changes to Key Soil Properties for Resource-Limited Farmers?
Sait Sarr, Maheteme Gebremedhin, Mark Coyne, Avinash Topè, Karamat Sistani, Shawn Lucas
80(1), 6-16, (17 October 2019)
Abstract
Log in to read
the full article
Exploring the Potential Impact of Louisville's Urban Heat Island on the Structure and Intensity of an Organized Convective Systems
L. J. Twohey, J. Naylor
80(1), 17-26, (8 November 2019)
Abstract
Log in to read
the full article
The Urban Heat Island at a Regional University in Kentucky, USA
Donald M. Yow, Matthew Ruggless
80(1), 27-37, (21 November 2019)
Abstract
Log in to read
the full article
Changes to Kentucky's Crayfish Fauna Since 2004 with an Updated Checklist of Kentucky Crayfish Species
.
Zachary L. Couch and Guenter A. Schuster.
80(1)
, 38-46, (16 January 2020)
Abstract
Log in to read
the full article
Global Behavior in Functional Iteration Problems
. Mark P. Robinson
80(1)
, 47-59, (19 February 2020)
Abstract
Log in to read
the full article
Abstracts from the Annual Meeting of the Kentucky Academy of Science 2–3 November 2019 Berea College
Log in to access all the abstracts
Three ways to access contents of the Journal of the Kentucky Academy of Science:
1.

KAS Members, Log in

to access a searchable BioOne index from 2005-current
If you're not a KAS member, join

HERE

to get log in credentials;
Faculty, staff, and students at our

Enhanced Affiliated institutions

can become members at no cost and are entitled to access to the full journal content
2. KAS Members can log in to find .pdf files of every issue ever published of the Journal of the Kentucky Academy of Science from 1914-current
1.

Log in

with your KAS username & password
2. Under the Member Menu, go to Resources > File Archive > Journals
3. Scroll through to find the pdf files you want (note volumes 2-9 are out of order)
3. Everyone- even if you're not a KAS member you can search for an article or topic using the BioOne link and retrieve abstracts:





BioOne is a nonprofit publisher that aims to make scientific research more accessible through a growing portfolio of products, including its full-text aggregation, BioOne Complete, and open-access journal, Elementa: Science of the Anthropocene.
Publishing in the Journal
The Journal of the Kentucky Academy of Science (JKAS) accepts manuscripts throughout the year.
Articles are published digitally using an Issue-in-Progress model.
Please have your manuscript in MS Word format for submission.

Editors of the Journal of the Kentucky Academy of Science can be reached at

journal@kyscience.org


Editor in Chief Frank Ettensohn
Editor, Natural/Physical Science Walter S. Borowski
Editor, Social Science Shauna Reilly

Guidelines for Contributors to the Journal
1. GENERAL

The Journal of the Kentucky Academy of Science (JKAS) publishes original research papers and notes on all areas encompassed by the Academy. Review papers will be considered for publication, but the appropriate Editor should be consulted in advance. The JKAS will publish manuscripts from symposia and special workshops; again, the appropriate Editor should be consulted as symposium plans are developed. Announcements, news, and other Academy information (as listed in the bylaws) will be included as received.

Authors do not have to be members of the Academy.

As of February 2021, reviews will be double-blind peer reviewed. Author information should be redacted for submissions.



Acceptance of papers for publication in JKAS depends on merit as evaluated by each of two or more external reviewers. All decisions by the Editor(s) are final.
Manuscripts may be submitted at any time to the Editors via the submission portal as MS
Word documents.

Format/style of research papers must conform to the guidelines below and also to practices in recent issues of the JKAS that are, in effect, a style manual.

Article Types

Research article

These articles report the scholarly background of an investigated theme, methods, results, and ramifications and significance through original study performed by the authors.

These manuscripts are the most common submission type to the JKAS and may be submitted directly through the journal website for initial appraisal by the Editor and peer review.


Review articles

These articles are comprehensive descriptions and evaluations of studies of a particular field or a subfield of academic research, and do not report original research of the authors. They also suggest or define promising approaches for on-going research.

These are exceptional submissions and must be cleared by the Editor in advance so that authors do not waste their time in creating an unsuitable manuscript. Submissions will also undergo peer review.


Opinion

Opinion articles present a different perspective on an existing issue, discuss new and trending issues, or emphasize topics that are important, but have been neglected, in the scholarly literature. These should be balanced and provide both sides of the perspective as background.

These are rare submissions and should be cleared by the Editors in advance of submission. The Editors may seek contrary opinion pieces to provide balanced coverage of issues.


Book review

Book reviews are limited to 300-500 words long and should clearly and succinctly convey the contents and value of the book in the context of current research. These submissions are typically invited by the Editors. Book authors/editors may contact the Editors to elicit potential reviews.

Theme Issues
The JKAS welcomes theme issues proposed, organized, and vetted by guest editors. Theme issues must be approved by the Editors in advance. We recommend that guest editors provide strong justification for their issue, eventually providing a list of committed contributors and their manuscripts, which should be research articles, for final approval.

Note
A brief research finding, including updates in nomenclature

Other

From time to time the editors will consider additional academic work for submission to the JKAS. While there is flexibility with these contributions, authors must consult the appropriate Editor before submission.

2. FORMAT OF RESEARCH ARTICLES

Papers should be in 12-point type with margins at least 1 inch all around. Double-space throughout the paper (i.e., one full line of space between each two lines of text, LITERATURE CITED, or tabular data). Do not justify right margins. Indent the first line of each paragraph (but not the first line of entries in the LITERATURE CITED – these should be hanging at 0.5 inch).

Except for scientific names of genera, and of infrageneric taxa, which should be typed in italics, the same type (Roman) should be used throughout (i.e. one type size only; bold only for paper title). Indicate the describer name the first time a species name is mentioned.

Sequence of sections in papers should, where appropriate, be as follows: Title of Paper, name/address of author(s) [

AUTHOR INFORMATION SHOULD BE REDACTED in SUBMISSION

], Abstract, 5-6 key words (may repeat words in the title), body of paper, LITERATURE CITED, tables with captions above, figure captions, and figures (all on consecutively numbered pages).

The first page should include the running head at the top right of the page (see 5 below), the paper's title. These should be followed immediately by the abstract, key words, and footnote.

AUTHOR INFORMATION SHOULD BE REDACTED in SUBMISSION for blind reviews. Upon publishing,

the footnote should read "Corresponding author e-mail: xxxxx@yyyyy.aaa".

The running head (top right of first page) should give a short version of paper title. Please limit to a total of 60 characters and spaces.

The abstract should not exceed 250 words and should be concise, descriptive, and complete in itself without reference to the paper (literature is not cited in the abstract).

Footnotes are not allowed except for the email address of the corresponding author and changes of address. AUTHOR INFORMATION SHOULD BE REDACTED for blind reviews. In the published version, both types of footnotes will be at the bottom of the first page.

The body of the paper should include, where appropriate, the following sections: INTRODUCTION, MATERIALS AND METHODS, RESULTS, DISCUSSION, SUMMARY (optional), ACKNOWLEDGEMENTS, and LITERATURE CITED. Each section heading should be in capital letters and centered.

No more than three levels of headings should be used: level 1, in capitals, centered; level 2, in capitals/lowercase, flush left; level 3, in italics, a paragraph indent with initial capital only (except proper nouns and adjectives), and followed by a period, the text then starting after one blank space.

Personal communications (avoid if possible) should be indicated in the text as follows: (name, affiliation, pers. comm., date) e.g., (O.T. Mark, Wainwright College, pers. comm., 5 Jun 2013).


3. STYLE

In text, spell out one-digit numbers unless they are used with units of measure (four oranges, 4 cm), and use numerals for larger numbers; do not begin any sentence with a numeral.

Measurements should be in metric and Celsius units (24 ºC). Define lesser-known symbols and give the meaning of acronyms at first use. Express time of day in the 24-hour system. Dates should be written day, month (abbreviated to three letters), year without internal punctuation. Units with multiple components should have individual components separated by a virgule (e.g., g/m2/yr).

Names of authors of binomials may be included but only at the first mention of the binomial. Cultivar names are not italicized but are enclosed in single quotes.

Useful guides for contributors to the JKAS are the following: Scientific style and format: the CBE manual for authors, editors, and publishers, 6th ed., Cambridge University Press, 1994; The Chicago manual of style, 15th ed., University of Chicago Press, 2003; The ACS style guide, 1997; and AIP style manual, 4th ed, American Institute of Physics, New York 1997.


4. IN-TEXT CITATION OF LITERATURE

Cite publications in the text by author(s) and date - e.g., (Readley 1994); multiple citations should be in chronological order and separated by semi-colons – e.g., (Foster 1976; Ashley et al. 1987; Brown 1994); multiple citations of works by one author(s) should be in chronological order – e.g., (Jones 1978, 1983); publications by one author(s) in the same year should be distinguished by a, b, c, etc. – e.g., (Smith 1994a, 1994b). For in-text references to works with one or two authors use names of both authors – e.g., (Jones and Williams 1991); for works with three or more authors use name of the first author followed by et al. – e.g., (Lee et al. 1985).

Do not include any reference unless it has been published or accepted for publication ("in press"; see below).


5. LITERATURE CITED

List all authors of each entry.
Do not abbreviate journal titles.
The first line of each reference should be typed flush left; the remaining lines should be indented five spaces.
Examples of common types of references are given below.

JOURNAL ARTICLE:
Lacki, M. J. 1994. Metal concentrations in guano from a gray bat summer roost. Transactions Kentucky Academy Science 55:124-126.
BOOK:
Ware, M., and R. W. Tare. 1991. Plains life and love. Pioneer Press, Crete, WY.
PART OF A BOOK:
Kohn, J .R. 1993. Pinaceae, Pages 32-50 in J. F. Nadel (ed). Flora of the Black Mountains. University of Northwestern South Dakota Press, Utopia.
WORK IN PRESS:
Groves, S. J., I. V. Woodland, and G. H. Tobosa. In press, Deserts of Trans-Pecos Texas.
INTERNET:
Listing of web sites in the Literature Cited is not encouraged, but if it is needed, please follow the guide below.

Smith, A.W. 1999. Title of web site. Web site address. Date accessed (06/12/2005)


6. ILLUSTRATIONS

Figures:

Images embedded in Word documents are acceptable only at the time of submission; illustrations will be submitted as separate files at time of acceptance for publication.

All images should be in the form of .tiff files with a resolution of at least 600 dpi. Use RGB color.

Figures should be sized correctly at the time of submission with publication in mind, so that figures and its lettering are legible. Figures can be one column width (~6.6 cm), partial page width, or across an entire page ~ (13.8 cm). Maximum figure height is 20.4 cm.

Use lowercase letters for sections of a figure.

Figure captions should be self-explanatory without reference to the text, and should be entered together at the end of the document on a page separate from the text. Number figures in Arabic numerals. Statistics presented in figures should be explained in the caption (e.g., "means are presented +/- standard error, n = 7").

Tables:

Each table should be numbered with an Arabic numeral and set on its own page at the end of the text. Each table should have a caption beginning with a title relating the table to the paper of which it is a part; it should be informative of the table's contents and should be self-explanatory without reference to the text. Statistics presented in the table should be explained in the captions (e.g., "means are presented +/-

standard error

, n = 7").

Tables should be formatted using the MS Word table function. Data should be in separate table cells, not separated or aligned with tabs, spaces, or line breaks. The caption and any footnotes should be outside the table proper.


7. ETHICAL TREATMENT OF ANIMALS AS RESEARCH SUBJECTS

If vertebrate or invertebrate animals are involved in a research project, the author(s) should follow those guidelines for ethical treatment of animals appropriate for the subjects, e.g., for mammals or for amphibians and reptiles. Papers submitted to the JKAS will be rejected if their content violates either the letter or the spirit of the guidelines.


8. PROOFS

Authors are responsible for correcting proofs. Proofs must be returned to the editor within 3 days after the author receives them; delay in return may result in delay of publication. The author also is responsible for checking all literature cited to make certain that each article or book is cited correctly.


9. REPRINTS

Authors will be given a high-quality pdf file of their paper.


10. PAGE CHARGES

Page charges have been dropped as of 2019 with the transition to an all-digital publishing model.

11. COPYRIGHT

The first author (or corresponding author) must sign a copyright agreement prior to an article appearing in the JKAS. The copyright agreement normally is completed and signed and returned to the Editor when a revised manuscript is returned to the Editor.



Copyright agreement 2017